New England Horse Labs - Our Lab is Your Lab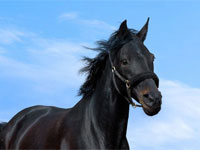 The new owner, James E. Staruk, HT(ASCP) attended and passed both the USDA-APHIS courses in EIA testing (ELISA and AGID methods) as well as CEM testing procedures in Ames, Iowa in 2007. In January, 2009, New England Horse Labs passed a USDA-APHIS inspection and has been approved to perform EIA and CEM testing.
Our FDA-inspected, fully equipped specialty labs are certified by the USDA-APHIS for foreign animal disease testing in specific areas and is managed by two Lab specialists, both certified by the United States Department of Agriculture to supervise and sign out EIA (Coggin's) testing (by both ELISA and AGID methods) as well as CEM testing. We are one of only five laboratories within the New England states approved by the USDA-APHIS to perform EIA (Coggin's) testing and the only lab within New England approved by the USDA-APHIS to perform CEM testing. The Lab is staffed 7 days per week, 365 days per year allowing you to drop off cultures or blood work or to pick up a certificate. This also allows for timely CEM reporting with no extra day's wait! Also, EIAs can be performed while you wait (please schedule). Why all this? Because our lab is your Lab.
Do you know who's testing your equine specimens? Are they approved by the USDA-APHIS? Has the Lab passed inspection? Did the technicians attend specialized training in Ames, Iowa? Does the Lab pass EIA proficiency testing year after year? Our Lab is operated as if you were the owner. We invite you to visit our facilities and meet the specialists who will be doing the testing you requested us to do. Please call for an appointment today!
Discounted Courier labels:
You can drop off your specimens or mail them to us by using your shipper (USPS, FedEx, or UPS) or you can purchase discounted pre-paid UPS ground service labels directly from us. Shipping boxes are free! Call for details (508) 757-9100 or (800) 392-5587.
What We Offer:
Daily Specimen pick-up*
Pre-Paid, pre-labeled, UPS 
shipping boxes
Specimen drop-off box
On-line results available
minutes after the test is 
completed
Batch results Faxed daily
Certificates mailed daily
Testing while you wait (please call ahead of time)
We file the state copy for you
*Specimen pick-up offered in certain areas and/or seasons. Contact us for more information.
News: