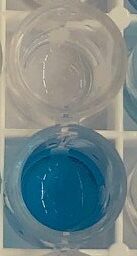 The USDA requires that any lab tech who performs EIA testing be trained and certified at the USDA facility in Ames, Iowa. All of our technicians have attended and passed these stringent courses and complete an annual proficiency test to maintain their certification. Our default testing procedure is ELISA, since it is quicker and less subjective than the AGID method. This allows us to provide same day processing of all samples and reports and you will receive an email letting you know as soon as that day's tests are completed. We are an approved lab for both Global Vet Link and VSPS and we scan and send you the completed VS form 10-11 report once it is signed. Hard copies of the original and client copies are mailed back to you the day of testing. We also take care of filing the state copies for you as required.
Our EIA fees are below the national averages, with no extra charge for VSPS or Global Vet Link processing. Veterinarians who send their Coggins tests to NEHL also receive a discount on our fecal testing services!
Shipping all of your blood samples to NEHL is easy and inexpensive with our discounted UPS or US Mail labels and free shipping boxes, each of which can hold up to 20 blood tubes in their specially designed protective foam inserts. Please see our Supply Order Form to get started with any of our convenient shipping supplies.